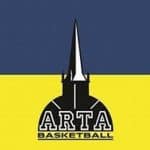 Afgelopen vrijdag reisden de heren van ARTA naar Zwolle. Be Quick 2 was daar de tegenstander. Van tevoren was bekend dat de tegenstander niet onderschat moest worden. ARTA had de winnende spirit van afgelopen weekend nog vast en had dan ook het nodige vertrouwen in de wedstrijd.
De Artanen begonnen sterk aan de wedstrijd. Na enkele minuten stond het scorebord op 2-9 in het voordeel van de Steenwijkers. Ondanks de fysieke kracht van de tegenpartij wist onder andere Gerdo van Dalen regelmatig de basket te vinden. In het tweede kwart zette Be Quick een tandje bij. Er werd strakker verdedigd en de spelsystemen werden aan de kant van ARTA minder goed gelopen. Door een frappante tactiek bij verschillende uitnames kwamen de Zwollenaren langszij.
ARTA was zoekende in de derde kwart. De schoten vielen niet meer. Mede door het goede uitverdedigen van Be Quick kwamen de lange mannen van ARTA minder tot hun recht. Met een achterstand van acht punten moest er wat gebeuren in het laatste kwart. De meegereisde supporters probeerden hun team naar de overwinning te juichen. Desondanks kon Arta niet uit hun dipje komen en de wedstrijd naar hun toe trekken. Dit kwam mede door blessureleed van twee sleutelspelers. Aan het einde van de wedstrijd stond er 64-54 op de borden. Een nederlaag, maar wel één met perspectief.