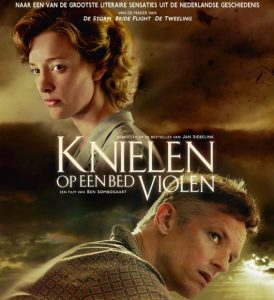 Donderdag 14 maart om 20.15 uur is de filmvertoning ´Knielen op een bed violen'.  Deze film is onderdeel van het Schrijversfestival. De film is gebaseerd op de roman van Jan Siebelink en in de hoofdrol speelt Barry Atsma. Knielen op een bed violen is een aangrijpende liefdesgeschiedenis en een klassiek noodlotsdrama over twee mensen die zielsveel van elkaar houden. Een ontroerende film over liefde, geloof en het maken van keuzes.
Ook te zien:
Dinsdag 26 maart Les Gardiennes. Dinsdag 2 april Snow Cake. Dinsdag 16 april Liebe in den Gängen. Dinsdag 30 april Todos Lo Saben.
Meer informatie, reserveren voor deze en de komende films of voorstellingen via www.demeenthe.nl/filmhuis-steenwijk of bel (0521) 514 004.