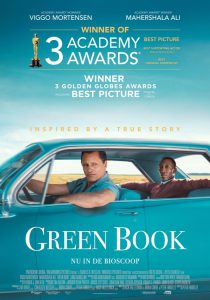 Het nieuwe seizoen van het Filmhuis gaat van start. Er is weer een interessant programma samengesteld. Het filmseizoen wordt geopende met de film 'Green Book'. (Dyka Vestzakzaal van Rabo Theater De Meenthe).  
Green Book
Donderdag 12 september om 20.15 uur is de filmvertoning 'Green Book'. Een inspirerend, hartverwarmend en waargebeurd verhaal over de hechte vriendschap tussen een uitsmijter en een concertpianist. Wanneer pianist Don Shirley in 1962 op zoek is naar een lijfwacht voor zijn tournee door het zuiden van Amerika, komt hij in contact met Tony Lip, een ltaliaans-Amerikaanse uitsmijter die graag wat wil bijverdienen. Tijdens hun reis worden zij geconfronteerd met hun tegengestelde persoonlijkheden, met gevaar en racisme maar ook met onverwachte menselijkheid en een volle dosis humor. Om veilig thuis te komen, zullen zij hun verschillen aan de kant moeten zetten. Er ontstaat een bijzondere vriendschap. 
Ook te zien in het Filmhuis Steenwijk 
Dinsdag 24 september Le Grand Bain. Donderdag 3 oktober Gloria Bell. Dinsdag 22 oktober Three Identical Strangers. Dinsdag 29 oktober Capharnnaüm. Donderdag 14 november Life Itself. Zondag 24 november The Favourite. Dinsdag 26 november Das Schweigende Klassenzimmer. Dinsdag 3 december If Beale Street Could Talk. Dinsdag 17 december If God Only Knows. 
Meer informatie, reserveren voor deze en de komende films of voorstellingen viawww.demeenthe.nl/filmhuis-steenwijk of bel (0521) 514 004.