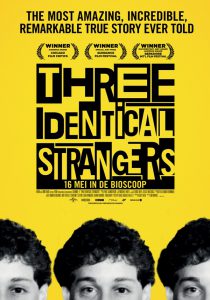 Komende week staat de volgende film op het programma in het Filmhuis Steenwijk (Dyka Vestzakzaal van Rabo Theater De Meenthe).
Three Identical Strangers
Dinsdag 22 oktober om 20.15 uur is de filmvertoning 'Three Identical Strangers'. Tim Wardle's veelgeprezen documentaire Three Identical Strangers is het verbazingwekkende, ongelooflijke, opmerkelijke waargebeurde verhaal over drie vreemden die worden herenigd door een bizar toeval. Bobby, Eddy en David worden geboren als identieke drielingen, maar gescheiden bij de geboorte en door drie verschillende families geadopteerd. Hun adembenemende, feelgood-verhaal wordt onmiddellijk een wereldwijde sensatie die roem en faam met zich meebrengt. Ze gaan van talkshow naar talkshow, ze worden overal voor uitgenodigd en de broers starten hun gezamenlijk restaurant in New York. Achter deze sprookjesreünie zit echter ook een duistere kant die gaandeweg een onvoorstelbaar geheim blootlegt – een geheim dat meer mensen treft.
Ook te zien in het Filmhuis Steenwijk
Dinsdag 29 oktober Capharnnaüm. Donderdag 14 november Life Itself. Zondag 24 november The Favourite. Dinsdag 26 november Das Schweigende Klassenzimmer. Dinsdag 3 december If Beale Street Could Talk. Dinsdag 17 december If God Only Knows.
Meer informatie, reserveren voor deze en de komende films of voorstellingen via www.demeenthe.nl/filmhuis-steenwijk of bel (0521) 514 004.