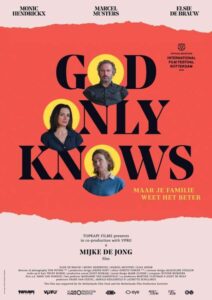 Komende week staat de volgende film op het programma in het Filmhuis Steenwijk (Dyka Vestzakzaal van Rabo Theater De Meenthe).
God Only Knows
Donderdag 19 december om 20.15 uur is de filmvertoning 'God only knows'. God Only Knows is een feest van herkenning en gaat over fricties en de onvoorwaardelijke liefde tussen broers en zussen. Monic Hendrickx, Elsie de Brauw en Marcel Musters spelen de hoofdrollen in deze ontroerende tragikomische vertelling. Twee totaal verschillende zussen bekommeren zich op elk hun eigen manier om hun broer die overspannen thuis zit. De familieverhoudingen komen al snel onder spanning te staan wanneer de zussen voor hun broer moeten zorgen. En de vraag is; wat houdt dit zorgen dan in?
Het nieuwe programma
Donderdag 2 januari Bohemian Rapsody. Dinsdag 7 januari Queen of hearts. Dinsdag 21 januari So long my son. Dinsdag 28 januari Le jeune Ahmed. Dinsdag 4 februari Veearts Maaike. Donderdag 20 februari Dolor Y Gloria. Dinsdag 3 maart Instinct. Zondag 28 maart The Wife. Donderdag 26 maart Amazing Grace. Dinsdag 31 maart The Patrick.
Meer informatie, reserveren voor deze en de komende films of voorstellingen via www.demeenthe.nl/filmhuis-steenwijk of bel (0521) 514 004.