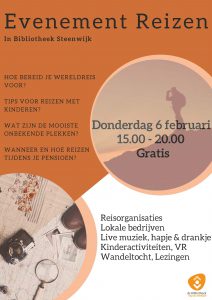 Reizen met kinderen of een wereldreis… Hoe dan? Wat zijn de mooiste (onbekende) plekken op aarde? Wanneer en hoe Reizen tijdens je pensioen?
Ontdek het op Donderdag 6 februari van 15:00 tot 20.00 uur 
Hapjes en drankjes van diverse culturen
Reisfoto's (Ga met je vrienden op de foto in een gek fotoho(e)kje)
LIVE muziek; optreden van Vocalgroep In Between
Diverse sprekers over de mooiste plekjes ver weg en dichtbij.
Reis advies op maat van diverse reisorganisaties
Fietsroutes en tips van de Weerribben en Vrienden van de fiets
Maak een Virtuele reis met de VR bril in het kennislab
Kinderactiviteiten (voorlezen of maak je eigen paspoort)
Stadswandeling langs historische plekken .. start vanaf de bieb Steenwijk
Iedere bezoeker ontvangt een leesboek (zolang de voorraad strekt).
Iedereen is welkom, neem gezellig leden, vrienden en familie mee.
Wij verheugen ons erop om u dan te ontmoeten. 
KOM OOK !  ……en zegt het voort, zegt het voort.