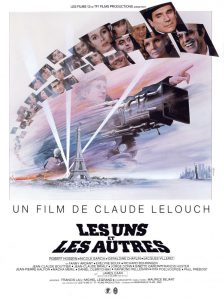 Komende week staat de volgende film op het programma in het Filmhuis in Steenwijk (Dyka Vestzakzaal van Rabo Theater De Meenthe).
Les uns et les Autres
Dinsdag 8 september om 20.15 uur is de filmvertoning 'Les Uns et Les Autres'.  De film volgt vier families met verschillende nationaliteiten (Frans, Duits, Russisch en Amerikaans). Alle vier families hebben een passie voor muziek. De verschillende verhaallijnen kruisen elkaar met hun eigen filmscores. De grootste gebeurtenis in de film is de Tweede Wereldoorlog, die de verhalen van de vier families bij elkaar brengt en het lot van sommigen bepaalt. Hoewel alle personages fictief zijn, zijn velen gebaseerd op historische artiesten en kunstenaars als Edith Piaf, Josephine Baker, Herbert von Karajan, Glenn Miller, Rudolf Noerejev enz. De Bolero brengt de vier families aan het eind van de film allemaal samen.
Ook te zien in Filmhuis Steenwijk
Dinsdag 15 september The Children Act. Donderdag 24 september Woman. Dinsdag 29 september Judy. Dinsdag 6 oktober Il Traditore. Dinsdag 13 oktober De Beentjes van Sint-Hildegard (uitverkocht). Woensdag 14 oktober De Beentjes van Sint-Hildegard. Dinsdag 27 oktober La Verité.
Meer informatie, reserveren voor deze en de komende films of voorstellingen via www.demeenthe.nl/filmhuis-steenwijk of bel (0521) 514 004.