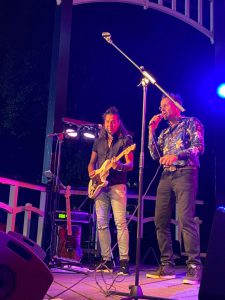 Woensdag 11 augustus mogen The Radiators het podium van Live in het Park betreden. Optreden voor een enthousiast publiek vinden ze het leukste wat er is. Zoals bij elk optreden zullen zij er samen met het publiek weer een feestje te maken!
Het bruisend middelpunt van The Radiators is zanger Jan-Marc Schreur. The Radiators bestaan verder uit Frank Bergkamp (toetsen, zang), Klaas Beute (drums, zang) en Hylco de Boer (bas, zang).
The Radiators spelen een mix van Classic Rock & Nederpop en trekken de aandacht met een heel eigen geluid. Hun muziek golft van De Dijk (de gelijkenis van de stem van zanger Jan-Marc met de stem van Huub is verbluffend!) naar Elvis Presley, Lynyrd Skynyrd, Lee Towers, Eric Clapton, Johnny Cash, Polle Eduard, The Rolling Stones, Het Goede Doel, The Doors, B.B. King, The Proclaimers, Joe Cocker & The Scene. Om maar even een paar namen te noemen.
Het concert start om 21.00 uur in Park Ramswoerthe, Steenwijk. Kaarten kosten 5 euro en zijn inclusief drankje. Er is beperkt plaats dus kaarten reserveren is gewenst. Kijk voor meer informatie, kaartverkoop en het actuele programma op www.demeenthe.nl