Komende week staan de volgende films op het programma in het Filmhuis in Steenwijk (Dyka Vestzakzaal van Rabo Theater De Meenthe).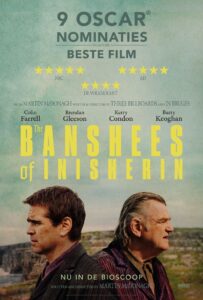 The Banshees of Inisherin
Dinsdag 25 april, om 20.15 uur is de filmvertoning 'The Banshees of Inisherin'. In The Banshees of Inisherin volgen we twee goede vrienden Padraic (Colin Farrell) en Colm (Brendan Gleeson) die in een moeilijke situatie belanden wanneer Colm plotseling besluit hun vriendschap te verbreken. Op het eiland voor de Westkust van Ierland, waar de twee wonen, probeert een verwarde Padraic de vriendschap nieuw leven in te blazen met hulp van zijn zus Siobhan (Kerry Condon). Zij heeft haar eigen problemen met Dominic, de zoon van de lokale politieman. De gebeurtenissen escaleren volledig als Colm een drastisch ultimatum stelt om zijn voornemen tot het beëindigen van de vriendschap duidelijk te maken.
Ook te zien in het filmhuis:
Woensdag 3 mei Hallelujah Leonard Cohen. Dinsdag 9 mei Aftersun. Zaterdag 13 mei Tár. Vrijdag 19 mei Godland. Donderdag 25 mei Dalva. Donderdag 15 juni Easy Rider.
Meer informatie, reserveren voor deze en de komende films of voorstellingen via www.demeenthe.nl/filmhuis-steenwijk of bel (0521) 514 004.