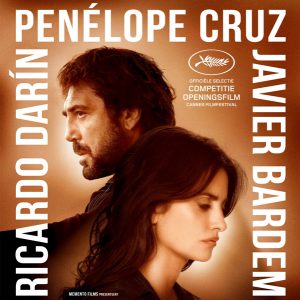 Komende week staat de volgende film op het programma in het Filmhuis Steenwijk (Dyka Vestzaktheater van Rabo Theater De Meenthe).
Todos Lo Saben
Dinsdag 30 april om 20.15 uur is de filmvertoning ´Lodos Lo Saben'. Todos lo saben (Everybody Knows), met Penélope Cruz en Javier Bardem in de hoofdrollen, is een spannende film waarin de verhoudingen binnen een Spaanse familie op scherp worden gezet door de vermissing van een kind. Laura en haar gezin reizen vanuit Buenos Aires terug naar haar geboortedorp in Spanje voor een huwelijk. De bruiloft is een grote reünie met de hele familie, dorpsvrienden en haar oude liefde Paco. Wanneer het feest ruw verstoord wordt door de verdwijning van Laura's dochter, staat het leven van de Spaanse familie op z'n kop.
Ook te zien:
Donderdag Cold War op donderdag 16 mei. Kursk op dinsdag 28 mei. Girl op donderdag 6 juni. Shoplifters op dinsdag 11 juni. Werk ohne autor op zaterdag 15 juni
Meer informatie, reserveren voor deze en de komende films of voorstellingen via www.demeenthe.nl/filmhuis-steenwijk of bel (0521) 514 004.