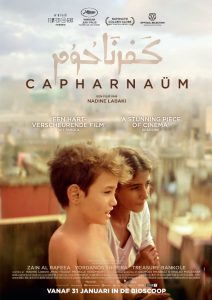 Komende week staat de volgende film op het programma in het Filmhuis Steenwijk (Dyka Vestzakzaal van Rabo Theater De Meenthe).
Capharnnaüm
Dinsdag 29 oktober om 20.15 uur is de filmvertoning 'Capharnnaüm'. In de rechtbank staat Zain, een 12-jarige jongen, voor de rechter. Rechter: 'Waarom klaag je je ouders aan?' Zain: 'Voor het feit dat ze me het leven hebben gegeven'. De nieuwe film van regisseur Nadine Tabaki is een indringend portret van een kind dat opgroeit in de straten van de Libanese hoofdstad Beiroet. De film gaat over ouderschap en overleven in de armste wijken van Libanon, gezien door de ogen van een kind. Als oudste kind van het gezin is het zijn taak om te werken en zo te helpen het gezin te onderhouden. Wanneer zijn zusje wordt uitgehuwelijkt aan een oudere lokale groenteboer, besluit Zain weg te lopen van huis. Dit leidt tot een ongelooflijke roadtrip, met nieuwe vriendschappen en allesbeslissende keuzes.
Ook te zien in het Filmhuis Steenwijk
Donderdag 14 november Life Itself. Zondag 24 november The Favourite. Dinsdag 26 november Das Schweigende Klassenzimmer. Dinsdag 3 december If Beale Street Could Talk. Dinsdag 17 december If God Only Knows.
Meer informatie, reserveren voor deze en de komende films of voorstellingen via www.demeenthe.nl/filmhuis-steenwijk of bel (0521) 514 004.