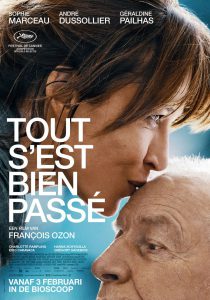 Komende week staat de volgende film op het programma in het Filmhuis in Steenwijk (Dyka Vestzakzaal van Rabo Theater De Meenthe).
Tout s'est bien passé
Donderdag 16 juni om 20.15 uur is de filmvertoning 'Tout s'est bien passé'. De tachtiger André krijgt een beroerte waarna hij half verlamd in het ziekenhuis belandt. Hij wordt door zijn dochter Emmanuèle bijgestaan. Door zijn huidige situatie wil hij niet verder met zijn leven en hij vraagt Emmanuèle hem te helpen zijn laatste wens te vervullen.
Meer informatie, reserveren voor deze film of voorstellingen via www.demeenthe.nl/filmhuis-steenwijk of bel (0521) 514 004.